Shopping Cart
Your Cart is Empty
There was an error with PayPal
Click here to try again
Thank you for your business!
You should be receiving an order confirmation from Paypal shortly.
Exit Shopping Cart
Actor / Singer / Director / Playwright / Composer / Vocal Coach
Hardwick Art & Magic Musings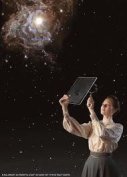 Silent Sky
by Lauren Gunderson presented by TheatreWorks Silicon Valley at Mountain View Center for the Performing Arts in its Regional Premier through February 9.

Not since Proof has science, math and theatre mixed so lovingly as it did Saturday night when I sat down to witness the beautiful production of Silent Sky.  Entering the theatre, we were warmly greeted by the open set, beautifully dressed to represent an observatory. I could feel immediately that something special would take place this night.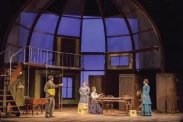 I was not disappointed.  I knew nothing about this play before I signed up to see it.  I chose wisely.  The ensemble of five sterling actors kept us thoroughly entranced in their discussion of cataloguing the stars in the sky from photographic plates.  We became as fascinated with the process as the "computers," the humans who were transcribing the data and naming the stars.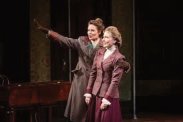 The play is the story of Henrietta Leavitt, exquisitely portrayed by Elena Wright, who discovered the process of measuring the distance of the stars.  This discovery helped prove that the universe extended far beyond our Milky Way galaxy.  Science-minded Henrietta is a contrast to her sister, Margaret (Jennifer Le Blanc), who is more spiritually-minded.  These sisters, however, share a deep love and support for each other.  Margaret is disappointed to be loosing her sister but still supports her when she learns Henrietta has been asked to work at Harvard University in the Astronomy Department.
At Harvard, Henrietta is disappointed to learn that she would not actually be looking through telescopes and studying the skies but would be cataloguing star plates from the other scientists.  The females were relegated to more clerical tasks than their male counterparts.  An interesting aspect of the performance was not just that we experience the growth and evolution of the five characters that are seen, but we experience the growth and evolution of unseen characters, such as the head of the department.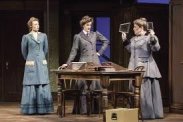 Henrietta is put to work alongside Williamina Fleming (Lynne Sofer) and her immediate supervisor, Annie Jump Cannon (Sarah Dacey Charles).  Earlier, Henrietta comments to her sister her disapproval of women wearing bloomers because women were not meant to wear pants.  Henrietta grows close to both women, even as Annie gradually wears more masculine clothing, including trousers by the end of the play.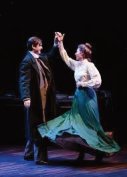 Watching over the work of the women is Peter Shaw, played by Matt Citron, who is no more qualified for his position than she.  Henrietta is determined that romance and family have no room with the work that needs to be done.  Over time Henrietta and Peter discover that there may be room for other things.
Unfortunately, family tragedies bring her home for several years, which allows her to make her discoveries but loose her romance.
It was thrilling watching these five actors work so convincingly and beautifully with each other, bringing a story that kept us mesmerized.  The set and lighting and sound and other visual effects acted in concert with the actors, so we were able to join with Henrietta in the discoveries she made, so that the science and the math made sense.
It was wonderful seeing a show from the audience in this theatre for the first time, after spending many shows with Lamplighters either on stage or back stage.  Education has never been more fulfilling.


A family holiday gathering, a family that is uncomfortable gathering, a holiday that is not really celebrated, a man observing the proceedings but not really a part of it, family members sure of their positions but distracted by their roles, a young girl with a mysterious adult rash, avocado-munching rodents, and porn in the children's show DVD cases -- well, it's only one night.  They'll survive.
The Pain and the Itch comes from the mind of Bruce Norris, who also penned the Pulitzer Prize and Tony winning Clybourne Park, the sequel to Raisin in the Sun.
The play challenges its audience because of its content, which can be cringing, hysterically cringing.  We are also challenged by the flow of the dialogue, which is multi-leveled, disjointed, shotgun and often with incomplete thoughts.  Director Dale Albright manages to control the pace and focus to make the chaos controlled, the dialogue understandable (even if ultimate motivations are not clear until the end) and the actors clear on their contributions to the story.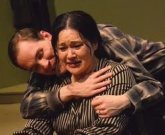 Clay (Justin Gillman) is a househusband who is rearing an infant (seen only in the first scene of the play) and a young daughter, Kayla (Gabrielle Jarvie) who has an undefined rash and only speaks in ear whispers but is an excellent screamer.  The breadwinner is his wife Kelly (Karen Offereins), who seems to almost tolerate, if not overtly love, her husband. She is happy that she has him to handle the day-to-day affairs of the home, even if she doesn't always agree with his thinking.  Justin and Karen have an understanding grasp of the uncomfortable reversal of husband/wife roles. Gabrielle does an excellent job of expressing her thoughts and intentions without uttering a word.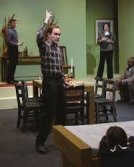 Clay has an estranged brother, Cash (Peter Townley), a plastic surgeon, who seems to have "dropped by" for the family festivities.  It is revealed that Clay is using his brother on the cheap to get medical help for his daughter's rash.  As brothers are want to be, they seem to have nothing but family in common . . . except an interest in pornography (Clay's covert and Cash's overt) and another interest revealed at the end of the play.  As pointed out in the play, with names like Cash and Clay it's no wonder they are always fighting.  Clay was the brother who always resented the other and Cash is so comfortable with himself that he can't understand why.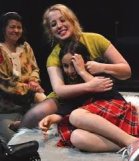 Carol (Jean Forsman) is the matriarch of the family and firm (if not skewed) in her observations of the world, though she has little grasp of who the people are that she has raised in her home. Also, into this gathering has come Cash's girlfriend, Kalina (Eden Neuendorf), a refugee from an unknown Socialist Eastern European country, with a child's sensibilities in a adult body.  She has a closer kinship with Kayla than the adults in the room.  Eden gives a sterling performance as the child-adult that has a clearer understanding of what should be expected of a person than the other "adults."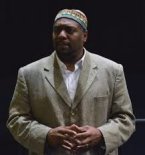 Observing in quiet reverence from the frame of this family portrait is Mr. Hadid, played with controlled subtlety by Dorian Lockett.  His occasional queries seem to be more concerned with the family's financial health than their emotional health.  This is all with good reason as the story unfolds.  We come to understand that the events of the evening and the people involved are not only becoming clearer to Mr. Hadid but to the other participants as well.
The Pain and the Itch was a well-paced, funny and, at times, excruciating, night of theatre.  It was worth every cringe.
TheatreWorks New Works Festival
Day Two was presented at a time that is foreign to most theatre people, the morning of August 11, 2013 at the Lucie Stern Theatre in Palo Alto. Nine playwrights were showcased.
Aimee Suzara
- is a published poet as well as playwright.  She presented a commissioned work in progress,
A History of the Body
, which was a discussion of the benefits and pitfalls of physical alterations.
www.aimeesuzara.net
Ignacio Zulueta - I performed with Iggy last year in Brecht/Weill's Happy End.  I, also, participated in a program, Repro Rights,  that included one of his short plays, Snip Snip, about a vasectomy.  In his interview he opined that the thrill he gets from writing is seeing the different ways in which that writing can be interpreted and presented.  He shared a scene from Cano & Abe, a discussion between old friends about why one would risk going AWOL before closing out a third tour of duty in Iraq.
Garret Groenveld - another poet and prolific playwright.  He presented a selection from his two-character play, The Hummingbirds, a winner of the Internationalists Global Playwriting Prize with has been performed in six countries and four languages.
JC Samuels - is a screenwriter & producer, as well as an award-winning playwright.  She shares her love of writing with other like-minded souls by producing film and theatre festivals.  She presented a scene from Ashtad and Dardanos, which has had local and national readings.
Patricia Milton - has maintained local roots with her playwriting but has managed to spread their influence nationwide via publication and presentation.  She also maintains a presence in several playwriting organizations.  She presented a startling selection from Moments of Truth.
Min Kahng
- a prodigious actor/musician/director in the East Bay, discovered writing and composing through his work with Bay Area Children's Theatre.  He presented music and scenes from his musical adaptation,
Where the Mountain Meets the Moon
.  His musical,
The Song of the Nightingale
, will soon have its premiere at Altarena Playhouse. 
www.minkahng.com
.
Anne Dimock - an author and librettist from Minnesota and Hawaii has opted to use the moderate climes of the Bay Area to influence her work, which includes creating strong roles for women.  She gave us a modern take on the Cyrano story by giving Roxanne the enlarged protuberance at the other end of the anatomy in roxanne.com.  She gave us new ways to refer to big-bottomed women.
Susan Sobeloff - is another contributor to the Olympians Festival and several other Bay Area festivals. She read from her historical play, The Suffrage Play, which will have a staged reading August 22-23 at Custom Made Theatre in San Francisco. 
Elizabeth Gjelten - was our final poet of the two-day event and admitted to coming into writing relatively late in life, at the ripe old age of 36.  She brought a delightful reading of her play, The Pastor's Wife, with the title character appearing in the last place you would expect, a prison.
In Hollywood, sequels and retreads seem to be the norm, as if all the creative pools for our entertainment have dried out.  Here, in the San Francisco Bay Area, by the sampling of these 19 artists, there is, indeed, a great body yet to be fished in.  As a musician as well as an actor, I have marveled how composers continue to mine new musical phrases from a finite palette of notes.
The Bay Area has shown itself to be a tremendous source for new and diverse theatrical works.  I'm proud to be a part of Theatre Bay Area, an organization that encourages and promotes theatre amateurs to think professionally, and theatre professionals to embrace and nurture the whole of the craft.
Theatre Bay Area
 has been leading the charge in developing mentorship programs to help theatre artists learn the business of their craft.  The ATLAS program has previously provided this guidance for actors and directors.  2013 has added a new track to the list with
ATLAS for Playwrights
.  The success of the program has reached national attention as Theatre Bay Area has been approached to provide their model to similar entities across the country.
Artists who have previously participated in the program have noted that, though there is a potential to share in some immediate financial rewards from the program itself, the real benefits are the long-term ones they receive from their newly-developed business skills.
ATLAS Playwrights Showcase
As part of the program, the playwrights were offered an opportunity to put themselves on public display before an invited audience of fellow artists, who in turn provided simple feedback.  TBA's Executive Director, Brad Erickson, interviewed each participant to help the auditors gain additional insight into what propels each writer than what was provided in their bios. They then set-up and presented a snippet from either a work-in-progress or a piece that has already seen stage time.
This first program was divided into two events, each as part of the Bay Area Playwrights Festival in San Francisco and the TheatreWorks New Works Festival in Palo Alto.
Bay Area Playwrights Festival
This first evening of presentations was held the evening of July 24, 2013 at the Thick House in San Francisco.  Ten playwrights were showcased.
Cassie Angley
- has brought her craft to the Bay Area via New York City.  She presented a selection from her one-woman show
Finding the Michaels
.  She will be presenting part of another play in development,
Split Chicks
, at The Marsh in October. Check
www.findingthemichaels.com
for more info.
Jonathan Spector - is co-artistic director for Just Theater in Berkeley.  I had previously seen one of his directorial efforts with that company at the Berkeley City Club, Jason Grote's 1001.  He presented a scene from a web series (podcast) as an unusual touch titled The World to Come.
Marissa Skudlarek
- has seen productions of her many full length and short plays.  She is a regular contributor to the San Francisco Olympians Festival and the Theatre Pub, to the latter of which she also contributes a blog at
marissabidilla.blogspot.com
. Theatre Pub offers short plays, all of which are site-specific to the locale, which is a San Francisco watering hole.  Marissa read from one of those contributions,
Beer Theory
.
Paul Heller - uses his extensive world travel to present cultures he has experienced to American audiences.  He presented an intriguing portrait of an American working in a Mexican Orphanage in Scavengers.
Roberta D'Alois - is also a contributor to the Olympians Festival as well as a teacher at SFSU.  Her plays focus on stories of mental illness.  Her presentation was in 2 parts:  Pashto Dreams about priest who is ignited to go to Afghanistan about destroyed Buddhas and a monologue, The Rustic Melody.
Vickie Siegel - presented two songs from her musical take on Shakespeare's The Comedy of Errors called A Hot Day in Ephesus.  I had the good fortune of playing Aegeon in a production last year of that musical.  I was hoping to hear something new from her but instead I got to contribute backing vocals on the Chains song.
Vonn Scott Bair - and I have worked together thanks to the Playwrights Center of SF. He was a contributor to last year's Repro Rights program, a fundraising tool for Planned Parenthood. Not only a prolific writer but actor in all media as well.  He presented pieces from two unique theatreworks:  Yes Maybe No (an interactive play) and The Possibility (a modular play.)
Martin Schwartz - has, admittedly, brought the most language-heavy and unsettling piece to the proceedings, a play that has seen stage time in San Francisco and Phoenix.  TUTOR: enter the exclave  was the type a show that required undivided attention.
Chas Belov - is another regular with Playwrights Center of SF and freely admits to an inability to refrain from humor in his writing.  His contribution this evening was a take on racism in America through foreign eyes in My Visit to America.
Andrea Mock - presented an extremely animated scene from her play within a play about a dance version of Moby Dick being done in the Central Valley town of Porterville.  The piece was titled, A Fish Without a Bicycle.
Next up:  Day Two
/