Shopping Cart
Your Cart is Empty
There was an error with PayPal
Click here to try again
Thank you for your business!
You should be receiving an order confirmation from Paypal shortly.
Exit Shopping Cart
Actor / Singer / Director / Playwright / Composer / Vocal Coach
Hardwick Art & Magic Musings
I am currently in rehearsal for a rarely-produced production of Purlie, the musical version of Purlie Victorious, written 50 years ago by esteemed actor Ossie Davis.  Purlie addresses the economic slavery still imposed by white property owners upon free Blacks in the South.
Also set in Georgia, and covering several decades prior to the setting for Purlie, is The Color Purple, being presented at Hillbarn Theatre in Foster City. Where Purlie deals with fighting their economic enslavement, The Color Purple deals with Black families fighting the tradition of emotional enslavement that they imposed on themselves.
I wanted to see this production for several reasons.  Of course, one was to gain additional insight into the mindset of Southern Blacks of the period, neither having grown up Black nor Southern.  I was also familiar with the excellent artistic credentials of the director, choreographer, music director and several cast members, having worked with them previously in 2012's Ragtime the Musical at Hillbarn.  I was expecting a tight, moving evening and I wasn't disappointed.
I had seen the film only once when it first came out, so there were a lot of details to the story I didn't remember.  Therefore, I was able to allow these actors to tell me the story.  I was enthralled as I discovered the relationships between these characters.  I learned many things I didn't remember.
The role of Mr. __________ (Anthone D. Jackson) was intriguing. We know at the outset that we are supposed to hate him.  Jackson played him with such a fine hand that hate was a feeling manifested by Celie but not necessarily the audience.  We learn that he is who he is because of the male traditions to which his roots were exposed.  The characters of Pa (Andy Serrano) and Ol' Mister (Max Williams) helped us to see this. He is emotionally brutal but he is honest and unapologetic until his world collapses and we witness his transition into the honorable human being buried inside.
Celie (Leslie Ivy) took us on a strange journey. Initially the performance seemed flat until we realized that she was merely resigned to her lot in life. We know this because we could see her growth and transition as she discovers there is love in her life and that there is an inner strength that she can call on. The discoveries she makes in Act 2 are phenomenal. During every performance of Ragtime, Leslie (as Sarah) would make me cry just before I had to return to the stage as Grandfather.  She did it to me again at the end of this performance.
To support the story-telling, outstanding performances were also brought to the characters of Shug (Dawn L. Troupe), Sophia (Jihan Sabir), Nettie (Kiara Rose Johnson & Jacqueline Dennis) & Sqeak (Damaris Davito). And an absolute joy to behold was the Greek Chorus of Church Ladies played by Ladidi Garba, Debra Harvey & Pam Drummer-Williams.
This show represents Director Lee Foster and Music Director Greg Sudmeier's swan song as they retire from Bay Area.  After years as Executive Producing Director of Hillbarn Theatre, Ragtime was her directorial debut and she continues to show off her deft understanding of how relationships can be developed on stage. The music was beautifully developed, though the accompaniment was recorded. There were many times, though, when the "orchestra" was fighting against the singers with balance inconsistencies. Many times the background was overpowering.  Other times, when there was a combination of choral work and solo lines, the harmonies were sharp but the solo lines got lost.
Also adding to the story was the varied and beautiful choreography envisioned by veteran Jayne Zaban.  From the gospel praise dancing to the jazz halls to the plains of Africa, all participants showed pure joy of whatever they were presenting.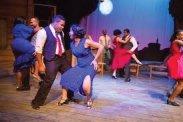 Hillbarn Theatre, Foster City
May 8 - June 1, 2014
Stay tuned to more info on Purlie, being presented July 3-20 at The Malonga Casquelord Center for the Arts in downtown Oakland.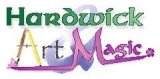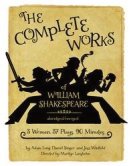 The Complete Works of William Shakespeare - abridged/revised
by Long, Singer & Winfield presented by Contra Costa Civic Theatre, El Cerrito, Jan 31 - Feb 23, 2014
Now a quarter-century old, this favorite of the Edinburgh Fringe Festival retains its freshness in telling the tales of the Bard that are 400 years old. Well, it kind of tells the tales. They tell their version of a handful of tragedies, combine the comedies into one mash-up because they all follow a basic format, and the histories are presented in a football game timeline.

35 of the 37 plays are represented in the first act. Coriolanus is eliminated because of "that" word. Act II is wall to wall Hamlet, presented three times, each as a synopsis of its predecessor, and finally in reverse. The fourth wall is not only eliminated by these Shakespearian professors, but the audience is regularly actively engaged in the proceedings.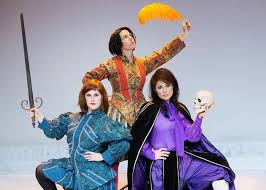 Traditionally, the play is presented by three male actors, occasionally four. This production had a female cast, comprised of Hannah Quigg, Trish Tillman and Shannon Warrick, under the direction of CCCT Artistic Director Marilyn Langbehn. I commented to Marilyn that I had not previously seen a production but, after seeing the perfectly engaging performance of these Bardy ladies, I was having difficulty imagining it being performed by guys.

The characterizations by this threesome were not meant to be true Shakespearean meatiness.  Their over-arching goal is to provide us with as much information as possible in 90 minutes, accuracy and truth be damned.  But neither of those elements are important to us, as an audience.  We were having a great time because they were having a great time in taking on the demands of the challenge.  It was wonderful that the personalities of their personal characters were allowed to intertwine with their Shakespearean counterparts.
If you go to the show for an education, you probably won't gain much additional usable insight.  If you go for an evening of true Shakespeare, your appetite will not likely be quenched.  If you come for an engaging, madcap, thoroughly theatrical evening of non-stop joy that, incidently, includes Shakespeare, you're in the exactly right place.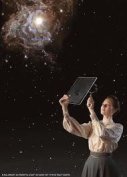 Silent Sky
by Lauren Gunderson presented by TheatreWorks Silicon Valley at Mountain View Center for the Performing Arts in its Regional Premier through February 9.

Not since Proof has science, math and theatre mixed so lovingly as it did Saturday night when I sat down to witness the beautiful production of Silent Sky.  Entering the theatre, we were warmly greeted by the open set, beautifully dressed to represent an observatory. I could feel immediately that something special would take place this night.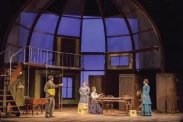 I was not disappointed.  I knew nothing about this play before I signed up to see it.  I chose wisely.  The ensemble of five sterling actors kept us thoroughly entranced in their discussion of cataloguing the stars in the sky from photographic plates.  We became as fascinated with the process as the "computers," the humans who were transcribing the data and naming the stars.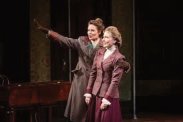 The play is the story of Henrietta Leavitt, exquisitely portrayed by Elena Wright, who discovered the process of measuring the distance of the stars.  This discovery helped prove that the universe extended far beyond our Milky Way galaxy.  Science-minded Henrietta is a contrast to her sister, Margaret (Jennifer Le Blanc), who is more spiritually-minded.  These sisters, however, share a deep love and support for each other.  Margaret is disappointed to be loosing her sister but still supports her when she learns Henrietta has been asked to work at Harvard University in the Astronomy Department.
At Harvard, Henrietta is disappointed to learn that she would not actually be looking through telescopes and studying the skies but would be cataloguing star plates from the other scientists.  The females were relegated to more clerical tasks than their male counterparts.  An interesting aspect of the performance was not just that we experience the growth and evolution of the five characters that are seen, but we experience the growth and evolution of unseen characters, such as the head of the department.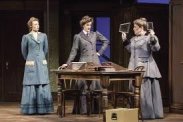 Henrietta is put to work alongside Williamina Fleming (Lynne Sofer) and her immediate supervisor, Annie Jump Cannon (Sarah Dacey Charles).  Earlier, Henrietta comments to her sister her disapproval of women wearing bloomers because women were not meant to wear pants.  Henrietta grows close to both women, even as Annie gradually wears more masculine clothing, including trousers by the end of the play.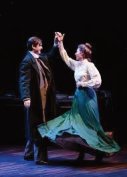 Watching over the work of the women is Peter Shaw, played by Matt Citron, who is no more qualified for his position than she.  Henrietta is determined that romance and family have no room with the work that needs to be done.  Over time Henrietta and Peter discover that there may be room for other things.
Unfortunately, family tragedies bring her home for several years, which allows her to make her discoveries but loose her romance.
It was thrilling watching these five actors work so convincingly and beautifully with each other, bringing a story that kept us mesmerized.  The set and lighting and sound and other visual effects acted in concert with the actors, so we were able to join with Henrietta in the discoveries she made, so that the science and the math made sense.
It was wonderful seeing a show from the audience in this theatre for the first time, after spending many shows with Lamplighters either on stage or back stage.  Education has never been more fulfilling.


A family holiday gathering, a family that is uncomfortable gathering, a holiday that is not really celebrated, a man observing the proceedings but not really a part of it, family members sure of their positions but distracted by their roles, a young girl with a mysterious adult rash, avocado-munching rodents, and porn in the children's show DVD cases -- well, it's only one night.  They'll survive.
The Pain and the Itch comes from the mind of Bruce Norris, who also penned the Pulitzer Prize and Tony winning Clybourne Park, the sequel to Raisin in the Sun.
The play challenges its audience because of its content, which can be cringing, hysterically cringing.  We are also challenged by the flow of the dialogue, which is multi-leveled, disjointed, shotgun and often with incomplete thoughts.  Director Dale Albright manages to control the pace and focus to make the chaos controlled, the dialogue understandable (even if ultimate motivations are not clear until the end) and the actors clear on their contributions to the story.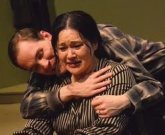 Clay (Justin Gillman) is a househusband who is rearing an infant (seen only in the first scene of the play) and a young daughter, Kayla (Gabrielle Jarvie) who has an undefined rash and only speaks in ear whispers but is an excellent screamer.  The breadwinner is his wife Kelly (Karen Offereins), who seems to almost tolerate, if not overtly love, her husband. She is happy that she has him to handle the day-to-day affairs of the home, even if she doesn't always agree with his thinking.  Justin and Karen have an understanding grasp of the uncomfortable reversal of husband/wife roles. Gabrielle does an excellent job of expressing her thoughts and intentions without uttering a word.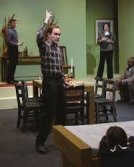 Clay has an estranged brother, Cash (Peter Townley), a plastic surgeon, who seems to have "dropped by" for the family festivities.  It is revealed that Clay is using his brother on the cheap to get medical help for his daughter's rash.  As brothers are want to be, they seem to have nothing but family in common . . . except an interest in pornography (Clay's covert and Cash's overt) and another interest revealed at the end of the play.  As pointed out in the play, with names like Cash and Clay it's no wonder they are always fighting.  Clay was the brother who always resented the other and Cash is so comfortable with himself that he can't understand why.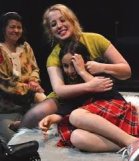 Carol (Jean Forsman) is the matriarch of the family and firm (if not skewed) in her observations of the world, though she has little grasp of who the people are that she has raised in her home. Also, into this gathering has come Cash's girlfriend, Kalina (Eden Neuendorf), a refugee from an unknown Socialist Eastern European country, with a child's sensibilities in a adult body.  She has a closer kinship with Kayla than the adults in the room.  Eden gives a sterling performance as the child-adult that has a clearer understanding of what should be expected of a person than the other "adults."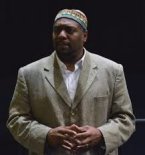 Observing in quiet reverence from the frame of this family portrait is Mr. Hadid, played with controlled subtlety by Dorian Lockett.  His occasional queries seem to be more concerned with the family's financial health than their emotional health.  This is all with good reason as the story unfolds.  We come to understand that the events of the evening and the people involved are not only becoming clearer to Mr. Hadid but to the other participants as well.
The Pain and the Itch was a well-paced, funny and, at times, excruciating, night of theatre.  It was worth every cringe.
During my youth I'm certain that mine was not the only household that made an event out of such steadfast fare as the annual television showings of Judy Garland's The Wizard of Oz and Mary Martin's Peter Pan.  What is amazing is that I remember vividly the sepia tones of Kansas transforming into radiantly colorful hues of Oz, even though we didn't have a color TV until I was in high school. Such was the masterful storytelling that sparked our young imaginations.
Thanks to our friends at SHN in San Francisco, we have been treated recently to updated visitations to Oz and Neverland.  And our imaginations continue to be piqued.
The current version of The Wizard of Oz managed to retain the flavor of the original though the script and score were updated by Sir Andrew Lloyd Webber, Tim Rice and Jeremy Sams. We expect the movie version of musicals to be told differently than the stage versions. Films are able to use different forms of theatrical "magic" than may be translatable to the stage and the flow between scenes, obviously, must be handled with different brands of fairy dust. Still, I was happy to see that the creative team remained truer to what we remember from our youth than it could have with the potential of being Wicked-ized.  The Ozian characters in Wizard seemed more natural and relatable than those from Wicked.
The updates to both story and song were refreshingly welcome.  It was delightful getting to know Aunt Em and Uncle Henry better via the new song "Nobody Understands Me," created for them and the other farm members at the top of the show.  And there were plenty of other new musical gems, including Professor Marvel's "Wonders of the World," using his tricked-out wagon, and the Wicked Witch's "Red Shoes Blues."  We were able to experience most of the effects from the film through use of animation projected on a front scrim.
The only thing I missed was the flying.  Glinda flew in to introduce herself but never flew again.  The Wizard's balloon came in and took him away.  But that was it.  The Wicked Witch was a pedestrian.  Even the flying monkeys only flew via animation.
The one design element that remained true from the film was Dorothy's blue gingham dress. But in Oz, the dress magically transformed to green using the same instant technique used to dress Cinderella for the ball in that recent theatrical update.
Peter and the Star Catcher, a prequel to Peter Pan, was the horse of a different color. It's the story of a boy, orphaned at such a young age that he doesn't even know his name, and his transformation into Peter Pan, as well as the transformation of the other characters that will inhabit Neverland with him.  Molly, a Starcatcher-in-training, helps him to become who he is destined to be.
This was a truly ensemble production.  Each of the 12 cast members had a primary character but also stepped into dozens of others throughout the piece.  Even the three principals, Peter, Molly & Black Stache, occasionally slipped on other characters.  The remarkable achievement was that there was never a sense of confusion as to what or who was being portrayed.
This was accomplished not only by the dead-on cast but also by the minimalist design elements and carefully-paced storytelling that encouraged the audience to provide their own imaginations to enhance the experience.
Everything that happens on stage was accomplished via the 24 hands on stage and the tight synchronization of each perfomer. More "magic" occured on this stage than on the Wizard stage.  There was even more magical flying, including that flicker of light that became Tinkerbell which was seamlessly tossed around the stage.  Even Molly was able to levitate without the use of pixie dust.
Starcatcher was not a "musical" but included a lot of fine music and sound effects masterfully sung by the cast and accompanied by a 2-member "orchestra." The sets were ropes and ladders and models and other toys.  This piece of theatre was a treatise on the adage "less is more."
There was very little that happened in the play that didn't have a direct purpose.  Some elements seemed silly for the sake of silliness but ultimately progressed the story.  One item had no real bearing on the plot but was a not-to-be-missed show stopper.  The entre'acte was a Busby Berkeley mermaid extravaganza that featured the entire company of 11 men and 1 woman.
My son, Dakin, always believed that he could be like Peter Pan and never grow up.  As much as adulthood may be trying to convince him otherwise, I am proud to be a part of the theatre community that provides fare such as this and allows us the hope of the possibility that maybe . . . just maybe . . .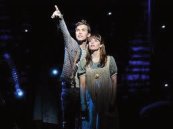 And, by the way, the reimagined Porgy and Bess is coming this week also.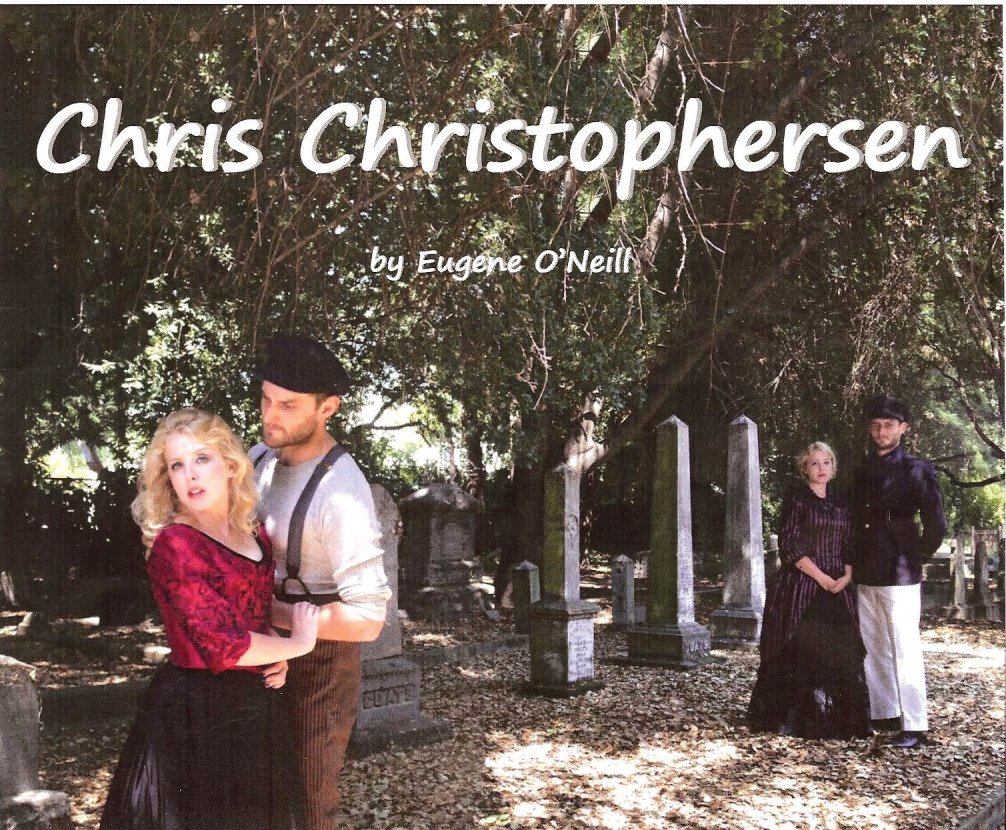 My grandfather, Alex Imlach, spent his life associated with the sea.  He operated fisheries and spent years with squareheads on the choppy waters of Alaska fishing for salmon and king crab.  So I guess I was genetically inclined to have a natural love of being in or on the water.
So it was thoroughly believable when Anna (Eden Neuendorf) declares how natural it seems to be living in her new nautical environment that is so far removed from the land life in which she grew up.  Having more difficulty finding sure footing is her father, Chris (John Hale),  who is trying to make a home on a coal barge for a daughter he hasn't seen since childhood. The coal barge home is short-lived as it is wrecked by a ship that then becomes their home.
Anna grows ever fonder of the sea and sea life over the protestations of her father, who has grown to view the sea as the devil, who has taken everyone else that he loves.  Thus is the story of Chris Christophersen, the Eugene O'Neill play that even the author lost interest in after out-of-town previews.  O'Neill became more interested in other projects, including rewriting the story as Anna Christie, which has become a film and stage staple.
It is reported that Chris Christophersen has not been produced since it's abandonment by the author in 1920.  In recognition of Eugene O'Neill's 125th birthday, for the 14th Annual Eugene O'Neill Festival, Role Players Ensemble and The Eugene O'Neill Foundation have produced both plays in tandem - Anna Christie under the direction of George Maguire at the Village Theatre and Chris Christophersen for one weekend only under the direction of Eric Fraisher Hayes at Eugene O'Neill's Tao House.  Both productions used the same cast, not only contrasting the two stories but also the range of the stellar players.
Neuendorf was as in control of Anna as Anna was in control of the changes inhabiting her new life.  Hale captured his hatred of the sea and concern for his daughter through rummied eyes beautifully.  Since this story was more about character than actual story,  the supporting cast did an exceptional job providing color and life.  Most actors did double duty and created truly distinctive characters.  The only other female cast member, Sally Hogarty, was a delight as Marthy Owens, Chris's bedmate.  It was disappointing to see her graciously leave to make room for the newly-arriving Anna.  I understand Marthy was not quite as accommodating in Anna Christie.
Hayes provided masterful direction to keep us engaged.  The truly remarkable element was the dialect work from Robin Taylor.  Each character seemed to come from a different locale and had consistent and definable  textures to their speech.  Some of the dialects were so authentic and rich they were, at times, hard to understand.  I, as an audience member, didn't mind working a little harder to enjoy the richness of the work being done. 
Several elements, beside the acting, made this production work.  The play was presented in a barn at the Tao House that provided a perfect environment for our sea journey.  The lighting effects (Joshua Hardwick) and sound (Robert Bo Golden) accented that feeling, particularly as the ship collided with the hapless barge at the conclusion of Act I.
Just as Chris grew to hate the sea that provided him with a life, my grandfather, too, found the sea a difficult partnership to maintain, especially the older he got.  The last we heard of him, he headed out into the straits of Alaska and the boat returned without him.  He and Chris were both bound to the sea for eternity,
Interest in this production was vast, as theatre companies from across the country made their way to sleepy little Danville to get a glimpse of this lost treasure.  Here's hoping they will find a way to bring new life from the depths of Eugene O'Neill's imagination.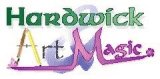 TheatreWorks New Works Festival
Day Two was presented at a time that is foreign to most theatre people, the morning of August 11, 2013 at the Lucie Stern Theatre in Palo Alto. Nine playwrights were showcased.
Aimee Suzara
- is a published poet as well as playwright.  She presented a commissioned work in progress,
A History of the Body
, which was a discussion of the benefits and pitfalls of physical alterations.
www.aimeesuzara.net
Ignacio Zulueta - I performed with Iggy last year in Brecht/Weill's Happy End.  I, also, participated in a program, Repro Rights,  that included one of his short plays, Snip Snip, about a vasectomy.  In his interview he opined that the thrill he gets from writing is seeing the different ways in which that writing can be interpreted and presented.  He shared a scene from Cano & Abe, a discussion between old friends about why one would risk going AWOL before closing out a third tour of duty in Iraq.
Garret Groenveld - another poet and prolific playwright.  He presented a selection from his two-character play, The Hummingbirds, a winner of the Internationalists Global Playwriting Prize with has been performed in six countries and four languages.
JC Samuels - is a screenwriter & producer, as well as an award-winning playwright.  She shares her love of writing with other like-minded souls by producing film and theatre festivals.  She presented a scene from Ashtad and Dardanos, which has had local and national readings.
Patricia Milton - has maintained local roots with her playwriting but has managed to spread their influence nationwide via publication and presentation.  She also maintains a presence in several playwriting organizations.  She presented a startling selection from Moments of Truth.
Min Kahng
- a prodigious actor/musician/director in the East Bay, discovered writing and composing through his work with Bay Area Children's Theatre.  He presented music and scenes from his musical adaptation,
Where the Mountain Meets the Moon
.  His musical,
The Song of the Nightingale
, will soon have its premiere at Altarena Playhouse. 
www.minkahng.com
.
Anne Dimock - an author and librettist from Minnesota and Hawaii has opted to use the moderate climes of the Bay Area to influence her work, which includes creating strong roles for women.  She gave us a modern take on the Cyrano story by giving Roxanne the enlarged protuberance at the other end of the anatomy in roxanne.com.  She gave us new ways to refer to big-bottomed women.
Susan Sobeloff - is another contributor to the Olympians Festival and several other Bay Area festivals. She read from her historical play, The Suffrage Play, which will have a staged reading August 22-23 at Custom Made Theatre in San Francisco. 
Elizabeth Gjelten - was our final poet of the two-day event and admitted to coming into writing relatively late in life, at the ripe old age of 36.  She brought a delightful reading of her play, The Pastor's Wife, with the title character appearing in the last place you would expect, a prison.
In Hollywood, sequels and retreads seem to be the norm, as if all the creative pools for our entertainment have dried out.  Here, in the San Francisco Bay Area, by the sampling of these 19 artists, there is, indeed, a great body yet to be fished in.  As a musician as well as an actor, I have marveled how composers continue to mine new musical phrases from a finite palette of notes.
The Bay Area has shown itself to be a tremendous source for new and diverse theatrical works.  I'm proud to be a part of Theatre Bay Area, an organization that encourages and promotes theatre amateurs to think professionally, and theatre professionals to embrace and nurture the whole of the craft.
Theatre Bay Area
 has been leading the charge in developing mentorship programs to help theatre artists learn the business of their craft.  The ATLAS program has previously provided this guidance for actors and directors.  2013 has added a new track to the list with
ATLAS for Playwrights
.  The success of the program has reached national attention as Theatre Bay Area has been approached to provide their model to similar entities across the country.
Artists who have previously participated in the program have noted that, though there is a potential to share in some immediate financial rewards from the program itself, the real benefits are the long-term ones they receive from their newly-developed business skills.
ATLAS Playwrights Showcase
As part of the program, the playwrights were offered an opportunity to put themselves on public display before an invited audience of fellow artists, who in turn provided simple feedback.  TBA's Executive Director, Brad Erickson, interviewed each participant to help the auditors gain additional insight into what propels each writer than what was provided in their bios. They then set-up and presented a snippet from either a work-in-progress or a piece that has already seen stage time.
This first program was divided into two events, each as part of the Bay Area Playwrights Festival in San Francisco and the TheatreWorks New Works Festival in Palo Alto.
Bay Area Playwrights Festival
This first evening of presentations was held the evening of July 24, 2013 at the Thick House in San Francisco.  Ten playwrights were showcased.
Cassie Angley
- has brought her craft to the Bay Area via New York City.  She presented a selection from her one-woman show
Finding the Michaels
.  She will be presenting part of another play in development,
Split Chicks
, at The Marsh in October. Check
www.findingthemichaels.com
for more info.
Jonathan Spector - is co-artistic director for Just Theater in Berkeley.  I had previously seen one of his directorial efforts with that company at the Berkeley City Club, Jason Grote's 1001.  He presented a scene from a web series (podcast) as an unusual touch titled The World to Come.
Marissa Skudlarek
- has seen productions of her many full length and short plays.  She is a regular contributor to the San Francisco Olympians Festival and the Theatre Pub, to the latter of which she also contributes a blog at
marissabidilla.blogspot.com
. Theatre Pub offers short plays, all of which are site-specific to the locale, which is a San Francisco watering hole.  Marissa read from one of those contributions,
Beer Theory
.
Paul Heller - uses his extensive world travel to present cultures he has experienced to American audiences.  He presented an intriguing portrait of an American working in a Mexican Orphanage in Scavengers.
Roberta D'Alois - is also a contributor to the Olympians Festival as well as a teacher at SFSU.  Her plays focus on stories of mental illness.  Her presentation was in 2 parts:  Pashto Dreams about priest who is ignited to go to Afghanistan about destroyed Buddhas and a monologue, The Rustic Melody.
Vickie Siegel - presented two songs from her musical take on Shakespeare's The Comedy of Errors called A Hot Day in Ephesus.  I had the good fortune of playing Aegeon in a production last year of that musical.  I was hoping to hear something new from her but instead I got to contribute backing vocals on the Chains song.
Vonn Scott Bair - and I have worked together thanks to the Playwrights Center of SF. He was a contributor to last year's Repro Rights program, a fundraising tool for Planned Parenthood. Not only a prolific writer but actor in all media as well.  He presented pieces from two unique theatreworks:  Yes Maybe No (an interactive play) and The Possibility (a modular play.)
Martin Schwartz - has, admittedly, brought the most language-heavy and unsettling piece to the proceedings, a play that has seen stage time in San Francisco and Phoenix.  TUTOR: enter the exclave  was the type a show that required undivided attention.
Chas Belov - is another regular with Playwrights Center of SF and freely admits to an inability to refrain from humor in his writing.  His contribution this evening was a take on racism in America through foreign eyes in My Visit to America.
Andrea Mock - presented an extremely animated scene from her play within a play about a dance version of Moby Dick being done in the Central Valley town of Porterville.  The piece was titled, A Fish Without a Bicycle.
Next up:  Day Two
/