Shopping Cart
Your Cart is Empty
There was an error with PayPal
Click here to try again
Thank you for your business!
You should be receiving an order confirmation from Paypal shortly.
Exit Shopping Cart
Actor / Singer / Director / Playwright / Composer / Vocal Coach
Hardwick Art & Magic Musings

A family holiday gathering, a family that is uncomfortable gathering, a holiday that is not really celebrated, a man observing the proceedings but not really a part of it, family members sure of their positions but distracted by their roles, a young girl with a mysterious adult rash, avocado-munching rodents, and porn in the children's show DVD cases -- well, it's only one night.  They'll survive.
The Pain and the Itch comes from the mind of Bruce Norris, who also penned the Pulitzer Prize and Tony winning Clybourne Park, the sequel to Raisin in the Sun.
The play challenges its audience because of its content, which can be cringing, hysterically cringing.  We are also challenged by the flow of the dialogue, which is multi-leveled, disjointed, shotgun and often with incomplete thoughts.  Director Dale Albright manages to control the pace and focus to make the chaos controlled, the dialogue understandable (even if ultimate motivations are not clear until the end) and the actors clear on their contributions to the story.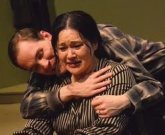 Clay (Justin Gillman) is a househusband who is rearing an infant (seen only in the first scene of the play) and a young daughter, Kayla (Gabrielle Jarvie) who has an undefined rash and only speaks in ear whispers but is an excellent screamer.  The breadwinner is his wife Kelly (Karen Offereins), who seems to almost tolerate, if not overtly love, her husband. She is happy that she has him to handle the day-to-day affairs of the home, even if she doesn't always agree with his thinking.  Justin and Karen have an understanding grasp of the uncomfortable reversal of husband/wife roles. Gabrielle does an excellent job of expressing her thoughts and intentions without uttering a word.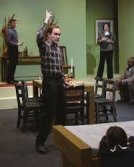 Clay has an estranged brother, Cash (Peter Townley), a plastic surgeon, who seems to have "dropped by" for the family festivities.  It is revealed that Clay is using his brother on the cheap to get medical help for his daughter's rash.  As brothers are want to be, they seem to have nothing but family in common . . . except an interest in pornography (Clay's covert and Cash's overt) and another interest revealed at the end of the play.  As pointed out in the play, with names like Cash and Clay it's no wonder they are always fighting.  Clay was the brother who always resented the other and Cash is so comfortable with himself that he can't understand why.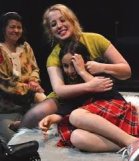 Carol (Jean Forsman) is the matriarch of the family and firm (if not skewed) in her observations of the world, though she has little grasp of who the people are that she has raised in her home. Also, into this gathering has come Cash's girlfriend, Kalina (Eden Neuendorf), a refugee from an unknown Socialist Eastern European country, with a child's sensibilities in a adult body.  She has a closer kinship with Kayla than the adults in the room.  Eden gives a sterling performance as the child-adult that has a clearer understanding of what should be expected of a person than the other "adults."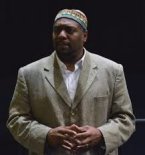 Observing in quiet reverence from the frame of this family portrait is Mr. Hadid, played with controlled subtlety by Dorian Lockett.  His occasional queries seem to be more concerned with the family's financial health than their emotional health.  This is all with good reason as the story unfolds.  We come to understand that the events of the evening and the people involved are not only becoming clearer to Mr. Hadid but to the other participants as well.
The Pain and the Itch was a well-paced, funny and, at times, excruciating, night of theatre.  It was worth every cringe.
/