Shopping Cart
Your Cart is Empty
There was an error with PayPal
Click here to try again
Thank you for your business!
You should be receiving an order confirmation from Paypal shortly.
Exit Shopping Cart
Actor / Singer / Director / Playwright / Composer / Vocal Coach
Hardwick Art & Magic Musings
I am currently in rehearsal for a rarely-produced production of Purlie, the musical version of Purlie Victorious, written 50 years ago by esteemed actor Ossie Davis.  Purlie addresses the economic slavery still imposed by white property owners upon free Blacks in the South.
Also set in Georgia, and covering several decades prior to the setting for Purlie, is The Color Purple, being presented at Hillbarn Theatre in Foster City. Where Purlie deals with fighting their economic enslavement, The Color Purple deals with Black families fighting the tradition of emotional enslavement that they imposed on themselves.
I wanted to see this production for several reasons.  Of course, one was to gain additional insight into the mindset of Southern Blacks of the period, neither having grown up Black nor Southern.  I was also familiar with the excellent artistic credentials of the director, choreographer, music director and several cast members, having worked with them previously in 2012's Ragtime the Musical at Hillbarn.  I was expecting a tight, moving evening and I wasn't disappointed.
I had seen the film only once when it first came out, so there were a lot of details to the story I didn't remember.  Therefore, I was able to allow these actors to tell me the story.  I was enthralled as I discovered the relationships between these characters.  I learned many things I didn't remember.
The role of Mr. __________ (Anthone D. Jackson) was intriguing. We know at the outset that we are supposed to hate him.  Jackson played him with such a fine hand that hate was a feeling manifested by Celie but not necessarily the audience.  We learn that he is who he is because of the male traditions to which his roots were exposed.  The characters of Pa (Andy Serrano) and Ol' Mister (Max Williams) helped us to see this. He is emotionally brutal but he is honest and unapologetic until his world collapses and we witness his transition into the honorable human being buried inside.
Celie (Leslie Ivy) took us on a strange journey. Initially the performance seemed flat until we realized that she was merely resigned to her lot in life. We know this because we could see her growth and transition as she discovers there is love in her life and that there is an inner strength that she can call on. The discoveries she makes in Act 2 are phenomenal. During every performance of Ragtime, Leslie (as Sarah) would make me cry just before I had to return to the stage as Grandfather.  She did it to me again at the end of this performance.
To support the story-telling, outstanding performances were also brought to the characters of Shug (Dawn L. Troupe), Sophia (Jihan Sabir), Nettie (Kiara Rose Johnson & Jacqueline Dennis) & Sqeak (Damaris Davito). And an absolute joy to behold was the Greek Chorus of Church Ladies played by Ladidi Garba, Debra Harvey & Pam Drummer-Williams.
This show represents Director Lee Foster and Music Director Greg Sudmeier's swan song as they retire from Bay Area.  After years as Executive Producing Director of Hillbarn Theatre, Ragtime was her directorial debut and she continues to show off her deft understanding of how relationships can be developed on stage. The music was beautifully developed, though the accompaniment was recorded. There were many times, though, when the "orchestra" was fighting against the singers with balance inconsistencies. Many times the background was overpowering.  Other times, when there was a combination of choral work and solo lines, the harmonies were sharp but the solo lines got lost.
Also adding to the story was the varied and beautiful choreography envisioned by veteran Jayne Zaban.  From the gospel praise dancing to the jazz halls to the plains of Africa, all participants showed pure joy of whatever they were presenting.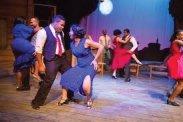 Hillbarn Theatre, Foster City
May 8 - June 1, 2014
Stay tuned to more info on Purlie, being presented July 3-20 at The Malonga Casquelord Center for the Arts in downtown Oakland.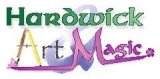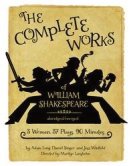 The Complete Works of William Shakespeare - abridged/revised
by Long, Singer & Winfield presented by Contra Costa Civic Theatre, El Cerrito, Jan 31 - Feb 23, 2014
Now a quarter-century old, this favorite of the Edinburgh Fringe Festival retains its freshness in telling the tales of the Bard that are 400 years old. Well, it kind of tells the tales. They tell their version of a handful of tragedies, combine the comedies into one mash-up because they all follow a basic format, and the histories are presented in a football game timeline.

35 of the 37 plays are represented in the first act. Coriolanus is eliminated because of "that" word. Act II is wall to wall Hamlet, presented three times, each as a synopsis of its predecessor, and finally in reverse. The fourth wall is not only eliminated by these Shakespearian professors, but the audience is regularly actively engaged in the proceedings.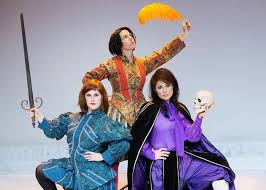 Traditionally, the play is presented by three male actors, occasionally four. This production had a female cast, comprised of Hannah Quigg, Trish Tillman and Shannon Warrick, under the direction of CCCT Artistic Director Marilyn Langbehn. I commented to Marilyn that I had not previously seen a production but, after seeing the perfectly engaging performance of these Bardy ladies, I was having difficulty imagining it being performed by guys.

The characterizations by this threesome were not meant to be true Shakespearean meatiness.  Their over-arching goal is to provide us with as much information as possible in 90 minutes, accuracy and truth be damned.  But neither of those elements are important to us, as an audience.  We were having a great time because they were having a great time in taking on the demands of the challenge.  It was wonderful that the personalities of their personal characters were allowed to intertwine with their Shakespearean counterparts.
If you go to the show for an education, you probably won't gain much additional usable insight.  If you go for an evening of true Shakespeare, your appetite will not likely be quenched.  If you come for an engaging, madcap, thoroughly theatrical evening of non-stop joy that, incidently, includes Shakespeare, you're in the exactly right place.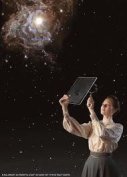 Silent Sky
by Lauren Gunderson presented by TheatreWorks Silicon Valley at Mountain View Center for the Performing Arts in its Regional Premier through February 9.

Not since Proof has science, math and theatre mixed so lovingly as it did Saturday night when I sat down to witness the beautiful production of Silent Sky.  Entering the theatre, we were warmly greeted by the open set, beautifully dressed to represent an observatory. I could feel immediately that something special would take place this night.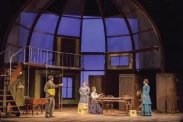 I was not disappointed.  I knew nothing about this play before I signed up to see it.  I chose wisely.  The ensemble of five sterling actors kept us thoroughly entranced in their discussion of cataloguing the stars in the sky from photographic plates.  We became as fascinated with the process as the "computers," the humans who were transcribing the data and naming the stars.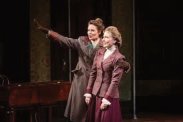 The play is the story of Henrietta Leavitt, exquisitely portrayed by Elena Wright, who discovered the process of measuring the distance of the stars.  This discovery helped prove that the universe extended far beyond our Milky Way galaxy.  Science-minded Henrietta is a contrast to her sister, Margaret (Jennifer Le Blanc), who is more spiritually-minded.  These sisters, however, share a deep love and support for each other.  Margaret is disappointed to be loosing her sister but still supports her when she learns Henrietta has been asked to work at Harvard University in the Astronomy Department.
At Harvard, Henrietta is disappointed to learn that she would not actually be looking through telescopes and studying the skies but would be cataloguing star plates from the other scientists.  The females were relegated to more clerical tasks than their male counterparts.  An interesting aspect of the performance was not just that we experience the growth and evolution of the five characters that are seen, but we experience the growth and evolution of unseen characters, such as the head of the department.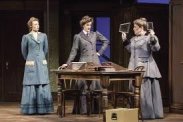 Henrietta is put to work alongside Williamina Fleming (Lynne Sofer) and her immediate supervisor, Annie Jump Cannon (Sarah Dacey Charles).  Earlier, Henrietta comments to her sister her disapproval of women wearing bloomers because women were not meant to wear pants.  Henrietta grows close to both women, even as Annie gradually wears more masculine clothing, including trousers by the end of the play.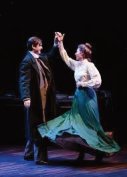 Watching over the work of the women is Peter Shaw, played by Matt Citron, who is no more qualified for his position than she.  Henrietta is determined that romance and family have no room with the work that needs to be done.  Over time Henrietta and Peter discover that there may be room for other things.
Unfortunately, family tragedies bring her home for several years, which allows her to make her discoveries but loose her romance.
It was thrilling watching these five actors work so convincingly and beautifully with each other, bringing a story that kept us mesmerized.  The set and lighting and sound and other visual effects acted in concert with the actors, so we were able to join with Henrietta in the discoveries she made, so that the science and the math made sense.
It was wonderful seeing a show from the audience in this theatre for the first time, after spending many shows with Lamplighters either on stage or back stage.  Education has never been more fulfilling.


A family holiday gathering, a family that is uncomfortable gathering, a holiday that is not really celebrated, a man observing the proceedings but not really a part of it, family members sure of their positions but distracted by their roles, a young girl with a mysterious adult rash, avocado-munching rodents, and porn in the children's show DVD cases -- well, it's only one night.  They'll survive.
The Pain and the Itch comes from the mind of Bruce Norris, who also penned the Pulitzer Prize and Tony winning Clybourne Park, the sequel to Raisin in the Sun.
The play challenges its audience because of its content, which can be cringing, hysterically cringing.  We are also challenged by the flow of the dialogue, which is multi-leveled, disjointed, shotgun and often with incomplete thoughts.  Director Dale Albright manages to control the pace and focus to make the chaos controlled, the dialogue understandable (even if ultimate motivations are not clear until the end) and the actors clear on their contributions to the story.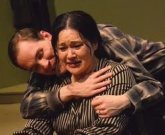 Clay (Justin Gillman) is a househusband who is rearing an infant (seen only in the first scene of the play) and a young daughter, Kayla (Gabrielle Jarvie) who has an undefined rash and only speaks in ear whispers but is an excellent screamer.  The breadwinner is his wife Kelly (Karen Offereins), who seems to almost tolerate, if not overtly love, her husband. She is happy that she has him to handle the day-to-day affairs of the home, even if she doesn't always agree with his thinking.  Justin and Karen have an understanding grasp of the uncomfortable reversal of husband/wife roles. Gabrielle does an excellent job of expressing her thoughts and intentions without uttering a word.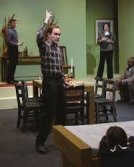 Clay has an estranged brother, Cash (Peter Townley), a plastic surgeon, who seems to have "dropped by" for the family festivities.  It is revealed that Clay is using his brother on the cheap to get medical help for his daughter's rash.  As brothers are want to be, they seem to have nothing but family in common . . . except an interest in pornography (Clay's covert and Cash's overt) and another interest revealed at the end of the play.  As pointed out in the play, with names like Cash and Clay it's no wonder they are always fighting.  Clay was the brother who always resented the other and Cash is so comfortable with himself that he can't understand why.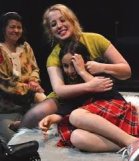 Carol (Jean Forsman) is the matriarch of the family and firm (if not skewed) in her observations of the world, though she has little grasp of who the people are that she has raised in her home. Also, into this gathering has come Cash's girlfriend, Kalina (Eden Neuendorf), a refugee from an unknown Socialist Eastern European country, with a child's sensibilities in a adult body.  She has a closer kinship with Kayla than the adults in the room.  Eden gives a sterling performance as the child-adult that has a clearer understanding of what should be expected of a person than the other "adults."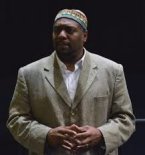 Observing in quiet reverence from the frame of this family portrait is Mr. Hadid, played with controlled subtlety by Dorian Lockett.  His occasional queries seem to be more concerned with the family's financial health than their emotional health.  This is all with good reason as the story unfolds.  We come to understand that the events of the evening and the people involved are not only becoming clearer to Mr. Hadid but to the other participants as well.
The Pain and the Itch was a well-paced, funny and, at times, excruciating, night of theatre.  It was worth every cringe.
/